Latest News
Important notice :
Monday, May 28 and Tuesday, May 29 will be disrupted by a strong strike movement of the SNCF. Please take this into consideration when planning your visit to Inforsid and IEEE RCIS.
Information for Authors of accepted papers. For IEEE Express service information please see here
Extension deadline due to several requests: February 9th, 2018
Important Dates
Conference:
May 29-31, 2018
Regular paper submission deadline:
February 2nd, 2018
February 9th, 2018
Tutorial proposals submission deadline:
February 19th, 2018
February 26th, 2018
Posters & demos submission deadline:
February 2nd, 2018
February 9th, 2018
Doctoral Consortium submission deadline:
February 2nd, 2018
February 9th, 2018
Notification to authors and registration opening:
March 28th, 2018
Camera-ready copy deadline for all paper types:
April 13th, 2018
Author registration deadline:
April 13th, 2018
Twitter
Help us to disseminate #RCIS2018 hashtag
---
---
Contact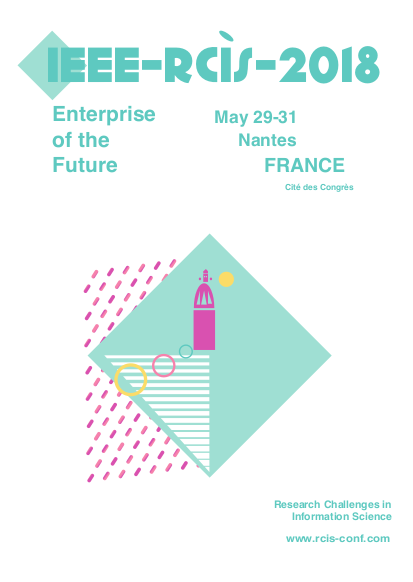 Download our flyer
Accepted Papers
Ana León and Óscar Pastor López. From Big Data to Smart Data: A Genomic Information Systems Perspective
Imen Akermi and Rim Faiz. Situation Assessment for Non-Intrusive Recommendation
Luisa Rincon, Raul Mazo and Camille Salinesi. APPLIES: a framework for evaluAting organization's motivation and Preparation for adoPting product LInEs
Negin Banaeianjahromi. Where Enterprise Architecture Development Fails: A multiple case study of governmental organizations
Monika Rakoczy, Amel Bouzeghoub, Alda Gancarski and Katarzyna Wegrzyn-Wolska. Influence in Time-Dependent Citation Networks
Nadine Mandran and Sophie Dupuy-Chessa. Supporting experimental methods in Information System research
George Drosatos, Fotis Nalbadis, Emily Arden-Close, Victoria Baines, Elvira Bolat, Laura Vuillier, Theodoros Kostoulas, Sonia Wasowska, Maris Bonello, Jane Palles, John McAlaney, Keith Phalp and Raian Ali. Empowering Responsible Online Gambling by Real-time Persuasive Information Systems
Amadou Fall Dia, Zakia Kazi Aoul, Aliou Boly and Elisabeth Métais. Fast SPARQL Join Processing between Distributed Streams and Stored RDF Graphs Using Bloom Filters
Eduardo Diaz, José Ignacio Panach, Silvia Rueda and Oscar Pastor. Towards a Method to Generate GUI Prototypes from BPMN
P.M. Dixit, J.C.A.M. Buijs and W.M.P. van der Aalst. ProDiGy : Human-in-the-loop Process Discovery
Julián Andrés Galindo, Sophie Dupuy-Chessa, Nadine Mandran and Eric Ceret. Using user emotions to trigger UI adaptation
Nabila Berkani, Ladjel Bellatreche and Carlos Ordonez. ETL-aware Materialized View Selection in Semantic Data Stream Warehouses
Ana-Maria Ghiran and Robert Andrei Buchmann. Semantic Integration of Security Knowledge Sources
Azzam Maraee and Arnon Sturm. Reasoning Methods for ME-Maps -- A CSP based Approach
Eddy Ghabach, Mireille Blay-Fornarino, Franjieh El Khoury and Badih Baz. Clone-and-Own Software Product Derivation Based on Developer Preferences and Cost Estimation short paper
Juan C. Muñoz-Fernández, Raul Mazo, Camille Salinesi and Gabriel Tamura. 10 Challenges for the Specification of Self-Adaptive Software
Guylerme Figueiredo, Amelie Duchardt, Maria Hedblom and Giancarlo Guizzardi. Breaking into Ontological Pieces
Marwa Hachicha, Riadh Ben Halima and Ahmed Hadj Kacem. Formalizing Compound MAPE patterns for Decentralized Control in Self-adaptive Systems
Xavier Bultel, Jannik Dreier, Pascal Lafourcade, Marie Izaute, Matthieu Giraud, Dounia Lakhzoum, Ladislav Motak, Timothée Kheyrkhah and Vincent Marlin. Security Analysis and Psychological Study of Authentication Methods with PIN Codes
Leila Ben Othman and Sadok Ben Yahia. A multiple criteria evaluation technique for missing values imputation.
Firas Saidi, Zouheir Trabelsi and Henda Ben Ghezala. A Novel Approach for Terrorist Sub-Communities Detection Based On Constrained Evidential Clustering
Zeineb Fki, Boudour Ammar and Mounir Ben Ayed. Machine Learning with Internet of Things Data for Risk Prediction: Application in ESDR
Franck Jeveme Panta, Geoffrey Roman Jimenez and Florence Sedes. Modeling Metadata of CCTV Systems and Indoor Location Sensors for Automatic Filtering of Relevant Video Content
Irfan Khan Tanoli, Marinella Petrocchi and Rocco De Nicola. Towards Automatic Translation of Social Network Policies into Controlled Natural Language
Rajani Chulyadyo and Philippe Leray. Using Probabilistic Relational Models to Generate Synthetic Spatial or Non-spatial Databases
Monika Kaczmarek-Heß, Sybren De Kinderen, Qin Ma and Iván S. Razo-Zapata. Modeling in Support of Multi-Perspective Valuation of Smart Grid Initiatives
Dominik Bork, Dimitris Karagiannis and Benedikt Pittl. Systematic Analysis and Evaluation of Visual Conceptual Modeling Language Notations
Ruud van Cruchten and Hans Weigand. Process Mining in Logistics: The need for rule-based data abstraction
Hamza Ed-Douibi, Javier Luis Canovas Izquierdo and Jordi Cabot. Model-driven Development of OData Services: an Application to Relational Databases
Mariem Elabdi, Boutheina Smine and Sadok Benyahia. DFBICA: A New Distributed Approach For Sentiment Analysis of Bibliographic Citations
Vasiliki Diamantopoulou, Aggeliki Androutsopoulou, Stefanos Gritzalis and Yannis Charalabidis. An Assessment of Privacy Preservation in Crowdsourcing Approaches: Towards GDPR Compliance
Maya Daneva and Boyan Lazarov. Requirements for Smart Cities: Results from a Systematic Review of Literature
Neli Blagus and Slavko Žitnik.Social media comparison and analysis: The best data source for research?
Isabel Sofia Sousa Brito, Jose Maria Conejero, Ana Moreira and Joao Araujo. A concern-oriented sustainability approach
Rainara Carvalho, Rossana Andrade and Kathia Oliveira. Towards a Catalog of Conflicts for HCI Quality Characteristics in UbiComp and IoT Applications: Process and First Results
Zakaria Maamar, Noura Faci, Khouloud Boukadi, Emir Ugljanin, Mohamed Sellami and Rafael Angarita. How to Agentify the Internet-of-Things?
Maude Arru, Elsa Negre and Camille Rosenthal-Sabroux. How are combined expertise elements in Early-Warning Systems? Observations and propositions from the French system
Nadia Chouchani and Mourad Abed. A User-centered Approach for Integrating Social Actors into Communities of Interest
Ana-Maria Ghiran, Robert Andrei Buchmann and Dimitris Karagiannis. Towards a Framework of Techniques for Enabling Semantics-Driven Secondary Notation in Conceptual Models
Michel Plaisent, Prosper Bernard, Charicris Pandanon and Lili Zheng Websurveys: Concepts and Tools
Jean-Philippe Gouigoux. Explaining modern industrial information systems architecture using Lego™ bricks
Maya Daneva. Using crowdsourced data for empirical research in Information Systems: what it is and how to do it safe?
Thein Thein. Lip Movements Recognition Towards An Automatic Lip Reading System for Myanmar Consonants
Olateju Jumoke Jumoke.Knowledge management infrastructure and processes on effectiveness of nursing care
Gaurav Kumar. A Multi-Criteria Decision Making Approach for Recommending a Product using Sentiment Analysis
Kaythinzar Phu. Traffic Sign Recognition System Using Feature Points
---
---
Research Challenges in Information Science Series