The Fourteenth International Conference on
Research Challenges in Information Science
September 22 - 25, 2020

RCIS 2021
The Fifteenth International Conference on Research Challenges in Information Science will be held in Limassol, Cyprus between 12 - 14 May, 2021

Visit the RCIS 2021 Website


Group Photo during Closing of RCIS 2020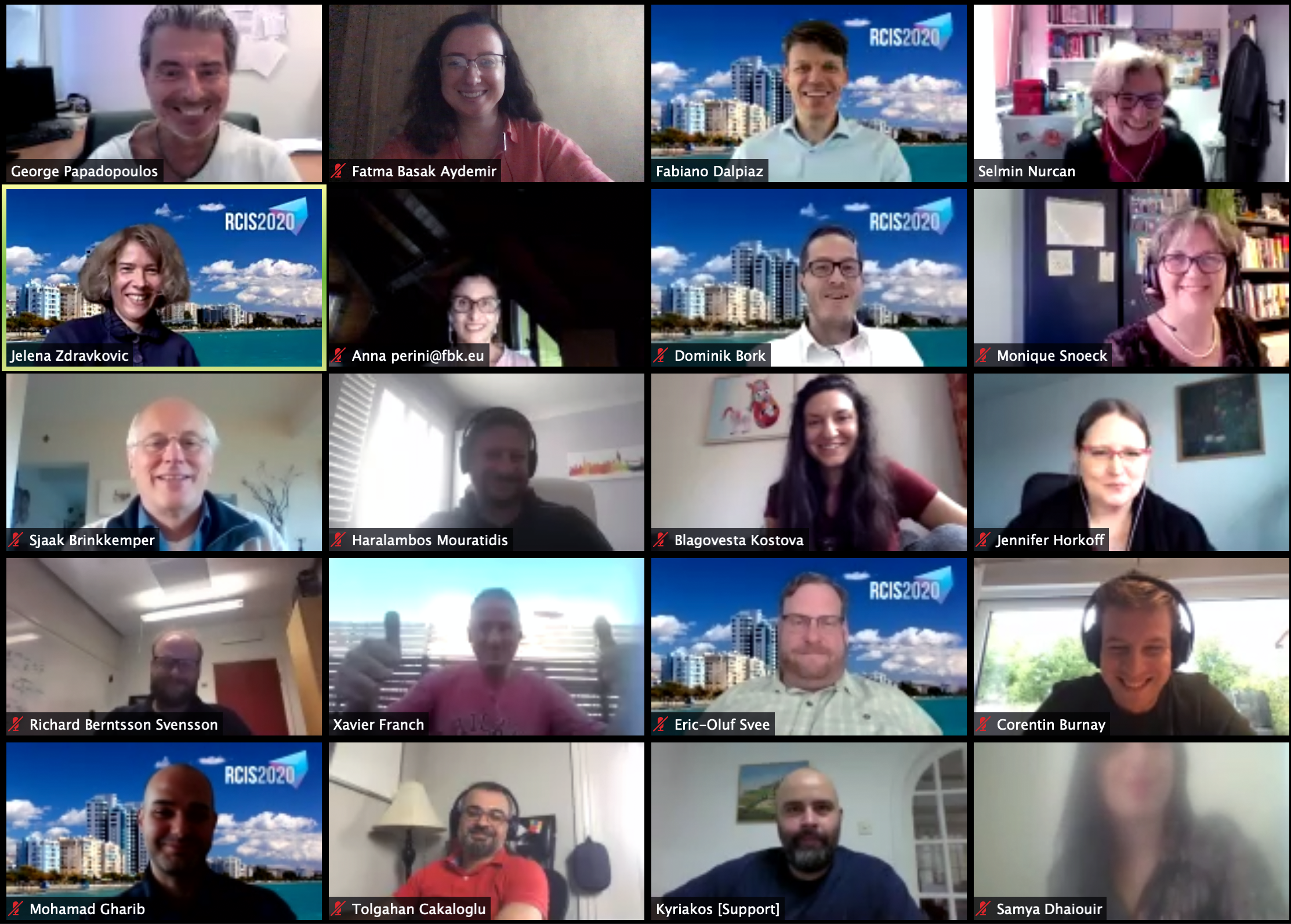 Proceedings
The conference proceedings can be downloaded free of charge for a limited time period (Until Oct 15) by clicking the link below.

Download the proceedings via SpringerLink

Scope and Topics
RCIS aims to bring together scientists, researchers, engineers and practitioners from a wide range of information science fields and to provide opportunities for knowledge sharing and dissemination. RCIS 2020 will continue paying attention to traditional topics at the conference; in addition, we solicit submissions aligned the special theme of Information Science in the Days of Artificial Intelligence. We understand AI in a broad sense, including machine learning, self-adaptation, logic-based reasoning, automation, agents and multiagent systems, natural language processing, etc. RCIS welcomes submissions from the whole spectrum of the information science field. The list of themes and topics includes, but is not limited to:
| | |
| --- | --- |
| A1. Information Systems and their Engineering | A2. User-Oriented Approaches |
| A3. Data and Information Management | A4. Business Process Management |
| A5. Domain-specific IS Engineering | A6. Data Science |
| A7. Information Infrastructures | A8. Reflective Research and Practice |
---
Special Journal Issue



Domain Knowledge Engineering
DKE

A selection of the best accepted papers of RCIS 2020, chosen by a dedicated committee, will be invited to submit an extended version of the RCIS paper to the Data & Knowledge Engineering (DKE) journal published by Elsevier (https://www.journals.elsevier.com/data-and-knowledge-engineering). The selection of the papers to invite will be based on the review scores and arguments and the potential for extension.
---
Latest News
Aug 25, 2020 : The Program has been published on the website
Aug 07, 2020 : The conference dates have been revised, conference turning into a virtual event
Jan 27, 2020 : Tutorial/Posters/Demos/DC Submission Deadline has been
extended to February 21, 2020
Jan 14, 2020 : Abstract Submission Deadline has been
extended to January 27, 2020
Jan 14, 2020: Paper Submission Deadline has been
extended to February 03, 2020
September 11, 2019 : Information about a journal special issue with the best papers of RCIS 2020 is now available
July 16, 2019 : The website is now available.
---
Limassol, a cosmopolitan sea-side city
Limassol is geographically situated on the southern coast of Cyprus. It is the largest city of Cyprus in geographical size. The district of Limassol is bordered by the district of Larnaka in the east, the district of Pafos in the west, the capital; Nicosia in the north, with Akrotiri Bay to the south. Limassol's central position offers easy access to all major cities as well as Troodos Mountains within a 35 to 45 minute drive. It is also conveniently situated only 35 minutes away from both Larnaka and Pafos airports.

Limassol is a safe destination which has much to share, with its beautiful seafronts, countless cultural, recreational and leisure activities, vibrant events and festivals, as well as being a centre for conferences and incentive travel programmes.